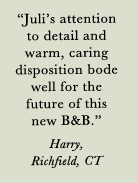 DIRECTIONS | WHAT'S NEW | ABOUT US
~~~~~~~~~~~~~~~~~~~~~~
Please Contact Us ...
~~~~~~~~~~~~~~~~~~~~~~
... with any questions or comments you may have concerning Six Chimneys & A Dream. We'd be pleased to talk with you about our inn and the beautiful Newfound Lake area. Please feel free to leave a message—we return our calls promptly.
__________________________
Contact Info

With much regret, Six Chimneys & A Dream is no longer open for business. Juli has relocated, and is on to new endeavors. Thanks to all of our past guests--it was a wonderful ride and definitely a dream brought to life!

603-481-0375

__________________________

Directions:
Six Chimneys & A Dream is located at the junction of Rte. 3A (Mayhew Tpke.) and North Shore Rd. in Hebron, NH (formerly East Hebron) just 5 miles south of the Plymouth traffic circle. We are conveniently located within minutes of Plymouth State University, Holderness School, and in close proximity to the offerings of the Lakes and White Mountain regions of New Hampshire.
CLICK HERE FOR MAP AND PRINTER-FRIENDLY DIRECTIONS

____________________________


What's New at
Six Chimneys & A Dream?
In Somewhat Chronological Order...
Amazingly, we are in our 6th year of operation now, and we have you, our guests, to thank for that! We have enjoyed meeting all of you and welcoming you back on return visits, as well as meeting your friends and family that have found us with your recommendation. It is a truly rewarding enterprise!
In early summer of 2007, we celebrated the official change of hands of the property, and since then have been making some of our long-awaited improvements ... including this website! 
In fall of 2008, Six Chimneys & A Dream launched its new Adult Enrichment Program, offering unique programs and seminars for area residents and visitors alike. Building on the ballroom, latin and swing dance classes the Newfound Region enjoys, new offerings included seminars on quilting, Hebron history and lore, the 10th Mountain Division of WWII, antiques, massage, architecture, genealogy, photography, and an ongoing Writer's Workshop called Your Life Preserved, on recording family stories for future generations. Stay tuned for fall 2009's offerings.
Six Chimneys & A Dream has a brand new roof now, and is also getting a new exterior paint scheme (see the picture on this page.)  6500 sq. feet is a lot of painting and a lot of roof!  New storm doors are also a welcome addition. 
We continue to work on landscaping, and are again enjoying fresh berries from the backyard, and looking forward to the apples this fall.
A mini-fridge and freezer were added in the Dining Room for guest convenience at the start of the 2008 busy season, and we also added air-conditioners for all south and west facing guest rooms (although with the cool summer we've had so far in 2009, we haven't really needed them. 2010's heat wave, now that's a different story!) We continue to make cosmetic upgrades throughout the building. The yellow room opened just in time for Mooseman '07, with two twin beds (formerly in the red room) and a freshly painted ceiling after extensive plaster work, and the red room got a new queen bed.  The painting in the downstairs hallway was completed in late November 2006, just before we had the Yuletide Tour and the 1st Annual Yuletide Crafter's Open House. 
The gift shop, A Dream Within A Dream, has been providing guests with unique mementoes of their stay and the Newfound Lake area since December 2006, and has limited hours on weekends for the public from Memorial Day to Columbus Day, and is open anytime by appointment. The 6th Annual Yuletide Crafters' Open House is scheduled for Saturday, December 10th, 2011, and this annual event was featured in the December 2008 issue of NH To Do Magazine. And, last but not least, we had a new hot water heater and wireless internet installed the first week of August 2007.  Stay tuned for more news in the coming months.
2010 was a very busy year with improvements to the inn . Renovations actually began December 2009 to install a new cute little powder room off of the dining room for added guest convenience and our public visitors. Then the real construction work kicked in as we dismantled the Dining Room (plumbing access and cosmetics) and Yellow Room for the installation of a new private 3/4 bath. We kept the original wide floorboards upstairs, of course, which were repainted in the bedroom, but sanded down and beautifully stained in the new bath. This construction resulted in both the Yellow Room and the Grey Room being granted a private bathroom. The Dining Room ceiling has never looked better with its fresh coat of paint and the new wall in the dining room blends so nicely with the old wallpaper. And, through the course of this work, the Carpenter's Quiche was born--even real men love it! Thanks to our carpenter Kris for suggesting the one ingredient that could have improved on our original quiche recipe and all of his hard work and patience working side by side with a quirky innkeeper on an old quirky house. The same thanks should be extended to our plumber Matt.
Finally, we are enjoying fresh produce from the new vegetable garden this year--a joint effort by Juli and Kris. In addition to harvesting a 6 lb. zucchini (and that's only because we didn't allow it to get bigger,) the garden is yielding a steady stream of cucumbers, yellow squash, lettuce, basil, fennel, more zucchini, the tomatoes which are just getting going, some future eggplants, decorative pumpkins, and one regular pumpkin that promises to rival prize winners at the local fairs--as of mid-August, it is larger than a giant watermelon. It's great being able to include some homegrown veggies and herbs on the breakfast menu.
2011 has been much more serene. The Grey Room's ceiling was replastered and given a fresh coating of paint by Juli. As time permits this year, the upstairs hallways and the Blue and Grey Bathrooms will receive the same treatment. The vegetable garden is back and looks promising, with everything grown from seed this year! Landscaping and the final bit of exterior painting continue. Six Chimneys & A Dream published Juli's recipe for her Tomato, Bacon, and Feta Fritatta in "Our Collection of Favorites", a recipe book put out by the New Hampshire Bed & Breakfast Association. We have a few copies available for sale here. Stay tuned for more updates, and we look forward to seeing you soon.
________________________
About Us:
Owned and operated by innkeeper Juli Pruden, Six Chimneys & A Dream is run with a little help from four-legged and furry friends (or so they think!) ... Stasia the Siberian Husky and Cecily the shy kitty. Feel free to visit with them in the gardens or kitchen (they're not allowed in the guest areas.) 
After deciding that she wanted to become an innkeeper during high school, Juli received her Bachelor of Science in Hotel/Restaurant Management from Northern Arizona University, and then spent time working in hospitality and retail management.  She taught Spanish as well before making the leap to opening Six Chimneys & A Dream in June 2006. Her interests include meeting new people, travel, hiking, kayaking, camping, reading, writing, quilting, dancing, music, photography, gardening, and cooking. 
Juli also teaches ballroom, latin and swing dance, as well as piano lessons ... she would be happy to arrange private dance lessons during your stay!