Programs: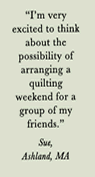 A quick note about this page: It is under development in preparation for the new program offerings coming September 2016--they are highlighted in the 3rd paragraph. I decided to repurpose my old website on which I closely collaborated with my designer. I still love it too much and am too proud of it to take it down, plus the other pages will give you more insight into who I am, what I have done, and what I have to offer.
Six Chimneys & A Dream began its Adult Enrichment Programs in Fall 0f 2006 when ISTD-trained dance instructor Juli Pruden moved to the Newfound/Lakes Region of New Hampshire. The Adult Enrichment Program expanded its offerings in Fall 2008 to include weeknight offerings on many different topics for the surrounding community. It has now arrived in Williamsburg, VA with the new name
Ac-Cent-Tchu-Ate the Positive.
Offerings this fall include Ballroom, Latin, and Swing Dance Classes, Writers' Workshops in a series I designed entitled "Your Life Preserved," Canvas Painting Events, Quilting Classes, and Piano Lessons.
If you are interested in participating in any of the above offerings, I encourage you to email dancingqueen@sixchimneys.com to be added to the master email list to be advised of all the upcoming events and their schedules. One last note: pre-registration is required for all of the offerings as space is limited in some of the venues, and pre-registration also ensures the successful holding of each event. See details under Reservations. Thanks for your cooperation, and I look forward to helping you create this fall and enrich your life!
Writers' Workshops: "Your Life Preserved..." We recognize the significance that history holds; both as it has shaped our lives and as a record of past events.  Recording pieces of our own and our family's history is just as important and is an invaluable way to preserve memories and family heritage.  Join creative writer Juli Pruden for a series of guided writers' workshops to begin getting your stories down on paper. The workshops are held monthly with convenient morning, afternoon, or evening options. Click here for the calendar dates. Pre-registration information is also under Reservations. Cost is $15/person/workshop.
The 1st workshop is titled "In the Beginning..." and the 2nd workshop is titled "Where I Come From..." Please try to sign up for a session you will be able to attend with some regularity. The sessions build on themselves, and your fellow writers will be counting on you. The following are excerpts from the 1st workshop:
"The value of getting your stories down on paper is huge—the spoken word becomes unreliable the more that time passes, and technology continues to change and become obsolete.  Yet, the written word has been with us for centuries preserving histories, and that will not change.  Through writing about our lives, we have the chance to learn about ourselves and experience personal truths that we were perhaps unaware of prior to writing, but there is also extreme value to those who come after us.  It gives an accurate portrayal of who we are in the context of our place in time that would otherwise be left to conjecture.  Many important stories and details would be lost forever without our determination to prevent this loss.  As we undertake this process, we will become increasingly conscious of life as story:  as adventure story, romance, saga, tragedy, and spiritual narrative." 
"When we think of births, most of us leap to thoughts of the births of babies.  This is limiting though.  Each of us has not only experienced our own births, but has given birth in thousands of ways over our lifetimes.  We open ourselves to new experiences, new places, new things to do, and new ways to see.  We create new things:  activities, art, places, plans, and ideas.  What have you conceived and given birth to?"
Quilting Classes: Quilting is an age-old pastime that results in both beauty and practicality. You will produce a decoration you can either keep for home use or give as a special gift. Many of our projects for the rest of the year will be seasonally themed. You will need to bring a sewing machine you are familiar with and good thread. I will provide a list of suggested items when you register, but will have the other necessary tools available. You will learn how to apply different skills with each project and polish those you have already learned. You do not have to be a great sewer or have a great machine to take these classes--I wasn't when I started. You just need to know how to use your own machine (basic stitch, threading, winding a bobbin.) Click here for the calendar dates. Pre-registration information is also under Reservations.
Pumpkin Table Runner is $35/person including all material to make the top. The fabric below in the middle is what we will use in the group class. Class meets Sept. 28th and Oct. 5th 2-4PM.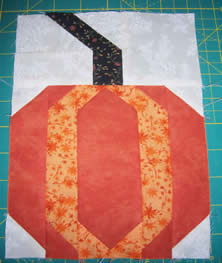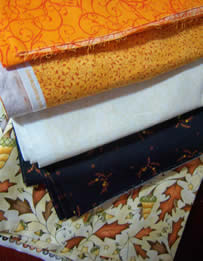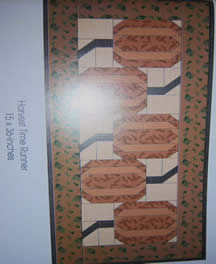 Halloween Rails Table Runner is $30/person including all material to make the top and prepare the binding. The fabric below is what we will use in the group class. Class meets Sept. 28th from 5-8PM.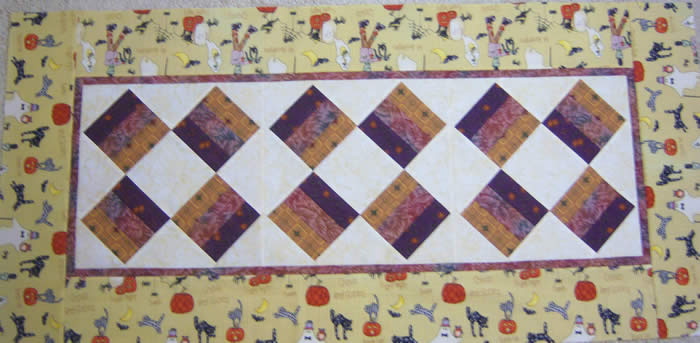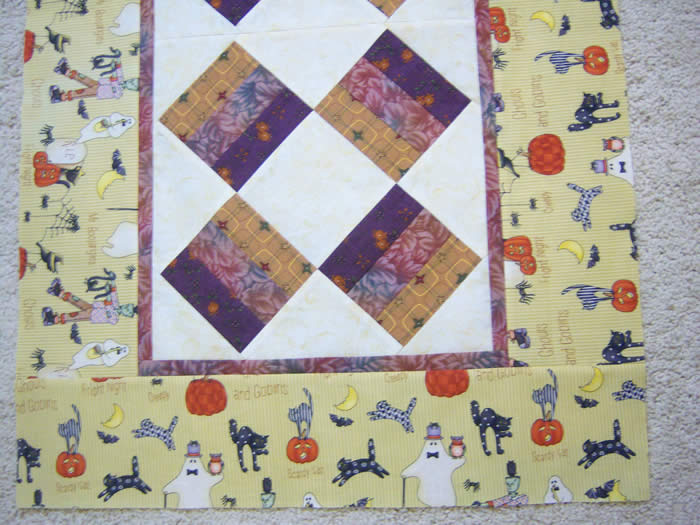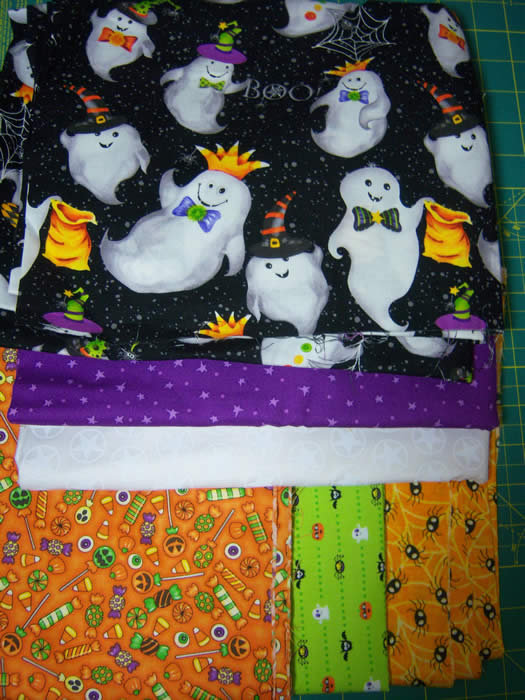 Canvas Painting Events: Canvas painting events are a well-kept secret. Get together with some friends and let your creativity reign. Each offering will feature a specific canvas design, and you will be guided step-by-step in your production of it on your canvas, brush in hand. Instructors may vary, and some may focus more on technique while others on exploring your creativity. Either way, you are sure to have a blast. You will be provided with materials, and if you wish to further enliven your night, you may byob responsibly. The workshops are held several times a month in the evening. Click here for the calendar dates. Pre-registration information is also under Reservations. Cost is $35/person/workshop. Our first workshop on September 26th from 6:30-8:30 PM will be of these Adorable Loggerhead Babies.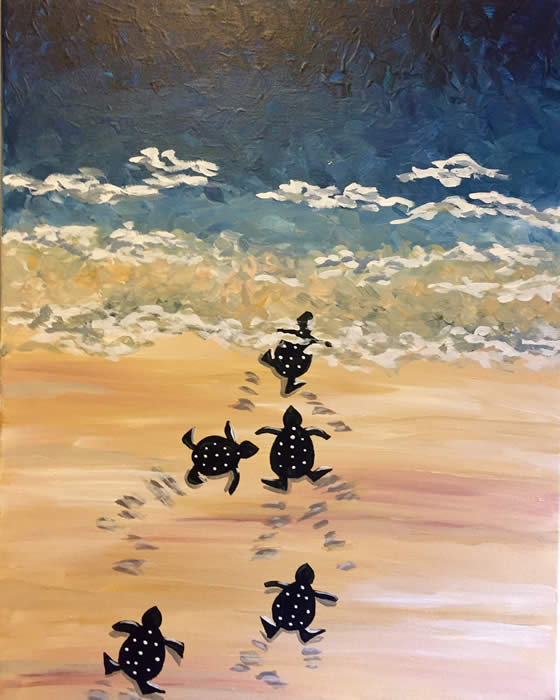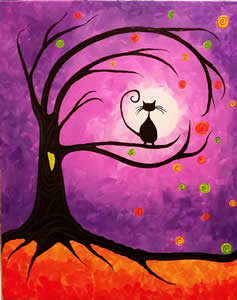 Halloween is coming!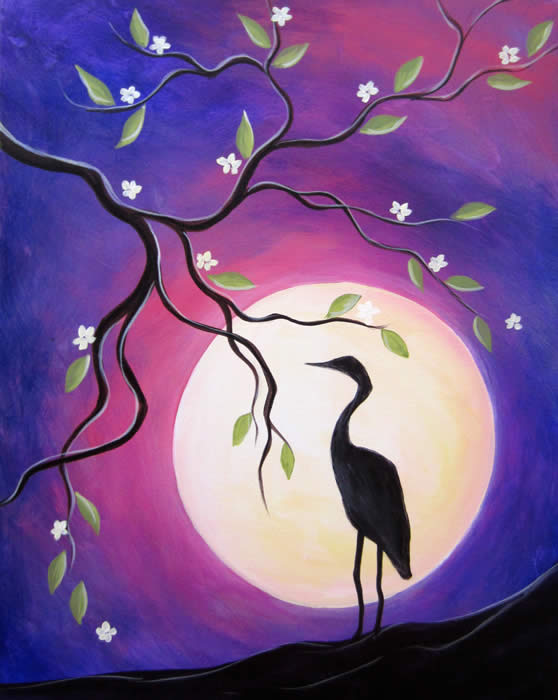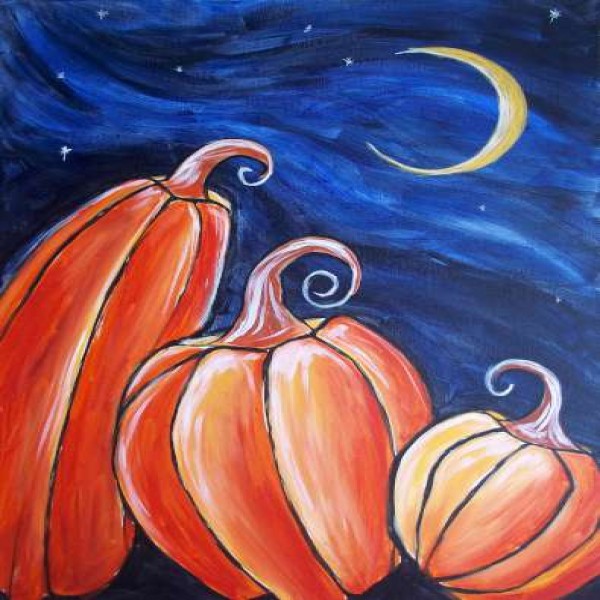 Oct. 12 and 19.
Piano Lessons: Juli also offers piano instruction in your home for all ages and levels of experience. Call 603-481-0375 or email for more information.
If you are interested in an offering but can't make it during the scheduled time, let us know so we can attempt to offer it at a future date that works for you.
Past Packages:


"Quilting and Crafter's Weekends" through May 6, 2012 — Four common rooms give you ample space to work on new, exciting projects or devote your time to finishing those UFO's in good company. CLICK FOR FLYER IN PDF FORMAT
"Genealogy Research Weekend Package" — Have you always wondered about your ancestors and where they came from? Now is the time to find out with the research techniques and tips presented by a state-certified genealogical researcher during this unique weekend. CLICK FOR FLYER IN PDF FORMAT
"The Romance of Dance"— This weekend package is devoted to the romance of the dance floor in the context of the ballroom. It may be the romance we bring to the dance with a life partner, or it could be the story we create through our dancing. Either way, you won't want to miss it. CLICK FOR FLYER IN PDF FORMAT

Former Noteworthy Special Events:
Six Chimneys & A Dream will be holding our 6 th Annual Yuletide Crafter's Open House on Saturday, December 10th. Come see the bed and breakfast all decked out for the holidays, and full of great crafters and artists and their best work. Get your holiday shopping done with meaningful, one-of-a-kind gifts and sample treats from our kitchen too. Admission and parking are free. Check out the article about this event featured in the December 2008 issue of New Hampshire To Do Magazine.
Six Chimneys and a Dream hosted a Quilt Documentation Day on Saturday, November 15, 2008, for the non-profit group New Hampshire Quilt Documentation Project II, which is working on documenting quilts made before 1976 that currently reside in NH.  They are gathering research for publication purposes and to highlight this often overlooked art form and the role it played in the lives of its creators.  For more information and upcoming documentation days, visit their website at www.nhquiltdoc.org.